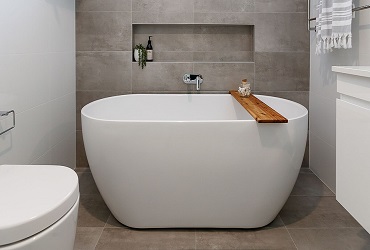 Moving is important for growth and moving to a new unique place is one of the greatest experiences in one's life, meeting new people, growing in business etc, etc. But your happiness and excitement may get disturbed by some of your heavy and fragile items like your bathtub or spa. Bathtubs are heavy to carry, it's a huge investment in your house, and moving them is challenging. While placing the bathtub in your home, you may have experienced the hassle you must go through, and you must follow the same procedure again with utmost care and safety. To save yourself from this experience, hire Canberra Movers Packers' bathtub removalists in Canberra at an affordable rate.
We have 10+ years of experience in spa removal in Canberra and have relocated more than 2000+ bathtubs and spas from Canberra to other states in Australia. Our professional team of bathtub removalists Canberra is trained enough to move your bathtub as safely as possible. We are experts in moving bathtubs, hot tubs, and spas of every shape and size and will take over all your moving stress and burden. So now fill out the query form and get a free quote on bathtub removals Canberra services.
Benefits Of Hiring Our Expert Spa Removalist In Canberra
Still, besides moving and transportation, there are several benefits of hiring our bathtub and spa removals in Canberra. You can look at them one by one below in brief:
1. Expert Bathtub Movers Have Know-How Of Spa Removal
For efficient spa removals, you must have to know the procedure of your move. If you go to move your bathtub on your own, then you first have to read about the bathtub moving procedure and then have to execute it. But it contains risks, and there are chances of mistakes. So it will be better not to take any risk which can cost you a lot. Hire our expert team of bathtub removalists in Canberra because they know the whole moving procedure on how to move a bathtub safely to the destination place. Our bathtub movers will move your bathtub following each defined step carefully.
2. Have Required Pieces Of Equipment
To move a bathtub safely and efficiently, you are required to have adequate pieces of equipment. If you choose to move your bathtub on your own, you will have to arrange all the moving parts of the equipment, which will cost you a lot. But if you choose to hire our professional spa removal Canberra, then you will not have to look for moving equipment because our bathtub removalists will bring all the required moving pieces of equipment on our own during your bathtub or spa removal in Canberra.
3. Provide Replacement And Removal Services
Bathtub moving doesn't mean that we will only move your bathtub from one place to another. You can surely hire our bathtub movers in Canberra if you want to remove your old bathtub from your home or replace the old bathtub with a new one. At Canberra Movers Packers, you can get all the required hot tub relocation services in Canberra per your demands and requirements.
4. Always Be Present On Time
Time plays a vital role in every moving service as the quality of services can be determined and judged based on the time and duration. We know how much valuable time adds to one's services. Punctuality is a sign of quality, and keeping this point in mind, we provide timely spa and bathtub removals services to our customers. Our bathtub removalists are always present on time and will complete your bathtub/spa removals in Canberra within the given period.
5. Have Adequate Experience
Experience is needed in any service, and you need adequate knowledge and practice in moving anything from one place to another. If you try to move your bathtub on your own, you will lack the experience and procedure, which may cause damage to your expensive bathtub. On the other hand, if you choose to hire our cheap spa removals in Canberra, you will not have to worry about anything because our movers have adequate experience and practice in moving a bathtub safely to another place. We give the best van and man moving services for the transportation of all kinds of commercial and household items.
6. Handle Your Spa Tub With Delegation
We are aware of how delicate the spa or bathtubs are, they can cost you a lot if any damage comes to them during a move or while moving. Without experts, it can lead to a risky task of belonging, lack of knowledge of packaging material to be used, or while loading in vehicles types of equipment used. Hiring a professional here is a must-do, Spa, bathtubs removals Canberra will help you do all this in no time, with zero risk involved. We take each step planned and execute it with professional movers. Contact us today to get the most affordable and accurate quote.
7. Complete Spa Removals In An Organized Manner
Moving your bathtub on your own may create hassle at work and home because you don't know the process to be followed, and you may start doing things randomly, which will generate hassle and mess during work. In this case, if you hire expert bathtub and spa removals in Canberra, they will make your move an organized one by following the required procedure and doing everything professionally.
Procedure Followed By Our Bathtub Movers In Canberra
To move a bathtub or spa quickly and smoothly to a new place, we must follow a proper procedure. And that's what our bathtub removalists in Canberra do, and they follow a step-by-step process to move your bathtub from one place to another, which is as follows:
1. Analyzing The Dimension And Difficulties Of Bathtub Removals
Firstly, our bathtub movers will come to your place and recognize the place and the situation of your spa removals in Canberra. Our spa removals Canberra team will thoroughly check everything from in and out and look after your bathtub and its condition. And after checking and analyzing everything, we will make a proper plan based on their analysis. Our bathtub removalists will look after each and everything for cheap and reliable spa removals in Canberra.
2. Dismantling The Parts Of A Spa Or Bathtub
After analyzing everything, our bathtub movers will start the bathtub moving approach by dismantling the spa tub from its place. They will step by step, dismantle every possible part of it separately. We have some experts who are professional in dismantling the bathtub. When the dismantling is done, our bathtub removals team will assemble everything in a place. Assembling is needed so that any item will not get misplaced because small nuts are easy to lose between huge pieces.
3. Packing And Lifting Of Dismantled Bathtub
After assembling, we will safely pack all your belongings using quality packing materials. Our bathtub removalist in Canberra will also bring our quality packing materials to ensure you a safe and secure bathtub relocation in Canberra. After packing, the team of Spa Removals Canberra will lift your bathtub and move it to the truck. Our bathtub movers will also clear the moving path to avoid any accidents while moving it.
4. Loading And Transportation Of Bathtub
After moving the bathtub to the truck, our spa removalists will carefully load the bathtub or spa tub into the truck. For this, we will use the required piece of moving equipment to load the bathtub into the truck carefully. Our bathtub movers will also provide a well-equipped and well-serviced moving vehicle for safe and secure bathtub relocation in Canberra. After safely loading the bathtub into the truck, we will transport it safely to the destination location.
5. Unloading And Unpacking Of Bathtub
After safely transporting the items to the destination place, our bathtub and spa removals Canberra team will safely unload the bathtub from the truck using the same process as loading and with the help of moving pieces of equipment. After unloading, our expert bathtub removalists in Canberra will place the bathtub into your new home and unpack it. We will carefully and safely unpack the bathtub at your new place. We always finish all the given work from start to end, as described in the quotation.
6. Reassembling The Parts Of The Bathtub
And last but not least, we will reassemble the bathtub at your place. Our team of professional bathtub movers will start reassembling all its parts and then reassemble it in your new bathroom where you want to place it, which will save you the cost of a professional to set up the bathtub in your new home. And with the reassembling, we will wrap up our bathtub removals services in Canberra.
To know more contact us now, you can
Call us at: 1800 865 005

You Can also mail us at: info@canberramoverspackers.com.au